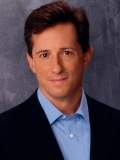 James Grippando (born 1958) is an American novelist and lawyer.
In his first job out of law school Grippando served as law clerk to the Honorable Thomas A. Clark, United States Court of Appeals for the Eleventh Circuit in Atlanta. There and in private practice Grippando worked on a number of appeals in death penalty cases, an experience that later served him in writing his first published novel, The Pardon. From September 1984 to September 1996, Grippando was a trial lawyer in Miami. In a David vs. Goliath legal battle that lasted seven years, Grippando served as lead counsel on behalf of Florida chicken farmers in a case that was "the catalyst for wholesale change in the $15 billion-a-year industry."
Grippando writes outdoors at his south Florida home, and most of his novels are set in Florida, chiefly in Miami. He writes novels of suspense in the genre of crime fiction, including psychological thrillers and legal thrillers, many of which draw upon his experiences as a trial lawyer. Since 2004 he has served as "Counsel" in Boies Schiller & Flexner LLP, a national law firm headed by trial lawyer David Boies. Grippando's novels have have been published in twenty-six languages: Bulgarian, Czech, Chinese (simplified), Croatian, Dutch, English, Estonian, French, German, Hebrew, Hungarian, Italian, Japanese, Korean, Latvian, Norwegian, Polish, Portuguese (Brazil), Romanian, Russian, Slovakian, Spanish, Serbian, Thai, Turkish, and Ukrainian.
---