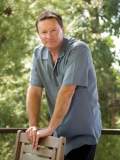 T. Jefferson Parker was born in Los Angeles and lived all of his life in Southern California. He took a bachelor's degree in English from the University of California, in 1976 and soon began his writing career in 1978.
Parkers first novel, Laguna Heat was such a bit hit that it was soon made into a HBO moving starring Harry Hamlin, Jason Robards and Rip Torn.
From this success he went on writing many more crime novels which have appeared on many bestseller list.
---