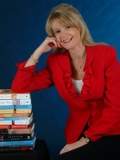 Jennifer Bacia is of Scottish-Polish background and came to Australia as a child. After completing a degree at the University of Queensland she worked
in the fields of education, welfare and corporate management. She has travelled widely throughout Europe and Asia and lived in Rome, London and Los Angeles. A pioneer in Australian fiction writing, Jennifer has been writing books for more than ten years. She was the first of the new breed of successful female popular fiction authors and according to literary agent Selwa Anthony, "it is through the success of Jennifer, other Australian women authors such as Di Morrissey, Beverley Harper, Ann Clancy and Robyn Burrows have had the opportunity to be published in Australia today"
Jennifer's novels include Everything To Lose, Shadows of Power, Angel of Honour, Whisper from the Gods, Mask of Paradise, A Moment in Time and Best Kept Secrets. Her short stories and columns appear in leading newspapers and magazines, and she has also written two works of non-fiction, Creating Popular Fiction and Chapter One.
---