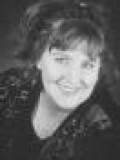 Jennifer lived in Melbourne until she was 11 when her father, a senior public servant, was transferred to the national capital, Canberra. She lived in and around Canberra for about 8 years and went to school at Catholic Girls High School (now Mercy College) in Braddon. She is the ninth child in a family of 13 girls.
Jennifer has two daughters and a son. She has had over 50 foster children and friends refer to her home as "the ashram" due to the large number of strays people that still inhabit her house at irregular intervals.
Jennifer has worked as a youth worker, a store detective, shop assistant, an advertising sales rep and executive secretary, among other things. She has managed 2 hire car companies, an ISP, a video shop, been a state manager for an international cosmetics company and worked as a project manager for Territory Health Services. Jennifer is an accredited workplace trainer and has a Masters of Arts in Research and also the regular movie reviewer for ABC Radio in regional Western Australia.
---