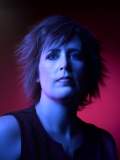 Kelley Armstrong (born 1968) is a Canadian author, primarily of fantasy works.
She has published twelve fantasy novels to date, most set in the world of Women of the Otherworld series, one crime fiction novel, and the Darkest Powers Trilogy. Armstrong has confirmed contracts with her American, British and Canadian publishers for novels seven through ten in this series. She has also written several serial novellas and short stories for the Otherworld series, which are available free from her website. Armstrong's first crime novel was released in July 2007. A sequel to that novel was released in 2009.
Armstrong's Women of the Otherworld series is part of a recently popular contemporary fantasy subgenre of the fantasy genre that superimposes supernatural characters upon a backdrop of contemporary North American life, with strong romantic elements. Within that subgenre, she is notable for including many types of supernatural characters, including witches, sorcerers, werewolves, ghosts, shamans, demons and vampires, rather than limiting herself primarily to a single type of supernatural creature. Most of her works have a mystery genre plot, with leading characters investigating some novel situation or unsolved question.
---