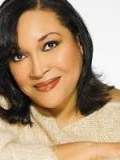 A native of Philadelphia, Banks is a graduate of The University of Pennsylvania Wharton undergraduate program, and alumni of Temple University's Master of Fine Arts in film making program.
She writes under the pseudonyms; L.A. Banks, Leslie Esdaile, Leslie E. Banks, Leslie Banks, and Leslie Esdaile Banks. She has won several business as well as literary awards, and writes in genres as diverse as romance, women's fiction, crime suspense, and paranormal. She has contributed to magazines, newspaper columns, and has written commercial fiction for a variety of major publishers. Her non-fiction work includes the riveting and motivational story of Bank's life journey in her contribution to the Chicken Soup for the African American Soul anthology.
Currently Banks writes full-time, is a member of The Liar's Club, and is always working on multiple projects and anthologies simultaneously. She resides in Philadelphia with her daughter.
---