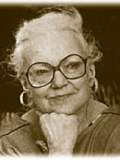 Lilian Jackson Braun (born 1913) is an American writer, well-known for her light-hearted series of "The Cat Who..." mystery novels. The "Cat Who" books centre around the life of former newspaper reporter, James Qwilleran, and his two Siamese cats, KoKo and Yum Yum, in the fictitious small town of Pickax located in Moose County "400 miles north of everywhere." Although never formally stated in her books, the towns, counties and lifestyles described in the series are generally accepted to be modelled after Bad Axe, Michigan (located in the "Michigan Thumb") where Braun resided with her husband for many years until the mid 1980s. Many believe that the culture and history of the Upper peninsula of Michigan are represented in the series.
Lilian began her writing career as a teenager, contributing sports poetry for the Detroit News. She went on to write advertising copy for many of Detroit's department stores. For the 'Detroit Free Press' she worked as the "Good Living" editor for 30 years, retiring from that post in 1978.
Between 1966 and 1968, she published three novels to critical acclaim: The Cat Who Could Read Backwards, The Cat Who Ate Danish Modern and The Cat Who Turned On and Off. In 1966, the New York Times labelled Braun, "the new detective of the year." The rising mystery writer then disappeared from the publishing scene for 18 years. Unlike Braun's light-hearted series, popular detective fiction had come to feature explicit sex, violence and foul language. In 1986, the Berkley Publishing Group reintroduced her work to a new generation of fans with the publication of an original paperback, The Cat Who Saw Red. Within two years, Berkley released four new novels in paperback and reprinted her first three from the sixties. Braun's series again rose to the top of best seller lists. The twenty-ninth novel in her series, The Cat Who Had 60 Whiskers was released in hardcover 2007.
---