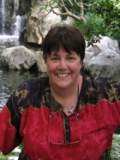 Born in Traralgon, Victoria in October 1958 Lindy attended Tintern Grammar School. In 1977 she began work as a cadet journalist on the bi-weekly Geelong NEWS. In the early 80's she set off overseas around Bali, travelled through Indonesia, Malaysia, India and Nepal before spending time on a kibbutz in Israel. On her return to Melbourne she worked as a stringer for Leader Newspapers, before taking a job as book editor with Lonely Planet, the travel guide publishers.
In 1990 she started a freelance book editing partnership with a friend, worked on all manner of primary education titles and was commissioned to write a series of books on world explorers, convicts, the gold rush and school excursion destinations in Melbourne. She also produced some books for Community Aid Abroad, and wrote Trifling With Tricks and Trumps, a kids' card game book.
In between 'paying' freelance jobs Lindy began work on her first novel, which took four years to complete. Blood Guilt, set in Melbourne and featuring private investigator Kit O'Malley, was published in 1999. The sequel Bleeding Hearts came out in 2001. In 1997 she was commissioned by the Museum of Victoria to write a thriller to promote the International Council of Museums Conference in Melbourne in 1998. The mystery, Stolen Property, was serialised in ten monthly chapters on the ICOM '98 website on the Internet. Renamed Golden Relic it was published in October 1998.
---