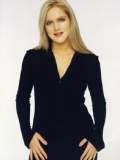 Louise Bagshawe (born 28 June 1971) is a British author and politician. She is a writer of "chick-lit" fiction and the Conservative Party candidate for Corby at the next general election.
After being educated at Woldingham School, a Catholic girls' boarding school in Surrey, she was named 'Young Poet of the Year' in 1989 at the age of 18. She studied English literature at Christ Church, Oxford. After a period in the music industry, she became an author specialising in the "chick lit" genre aimed at young women. Her first novel, Career Girls, was published in 1995. Her latest novel 'Passion' will be released in May 2009 in the UK
Alongside her other activities, Bagshawe became a political activist. At the age of fourteen she joined the Conservative Party, after being inspired by then-Prime Minister Margaret Thatcher. In 1996, however, she briefly switched to Tony Blair's Labour Party believing him to be "socially liberal but an economic Tory". By 1997 she had returned to the Conservatives and helped her mother, Daphne, win a seat in East Sussex County Council from the Liberal Democrats. In 2001, Louise co-founded the Oxonian Society with Joseph Pascal and HRH Princess Badiya bint El Hassan of Jordan.
---