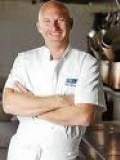 Matt Moran found an appreciation for food and the lands that produce it while growing up on a dairy farm in NSW. At the age of 15 he left school to begin an apprenticeship at La Belle Resuarant on Sydney's north shore. Amongst other skills, Matt practiced the art of classic French cooking.
Along with Peter Sullivan he opened The Paddington Inn Bistro in 1991, and then Moran's Restaurant and Cafe in 1995. In 1999 they opened what has been labelled one of Australia's finest, ARIA, which overlooks Sydney harbour and the Opera House. (Brisbane's ARIA opened in 2009 on the Eagle Street Pier overlooking the Brisbane River). Sydney ARIA has won several awards, and esteemed praise from industry heavyweights such as James Halliday labelling the wine list 'the best in Australia'.
He has appeared in numerous television shows, including The Chopping Block, My Restaurant Rules and MasterChef.
---