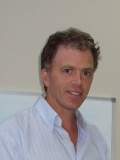 Michael Panckridge is a part time teacher at The Geelong College Preparatory School and a mad keen sports fanatic. He has played and coached at a variety of sports and takes an active interest in the Australian Cricket X1, the AFL's Geelong Cats, Rugby League's Melbourne Storm, the Boomers and Opals, hocket teams the Hockeyroos and Kookaburras, the Wallabies and the Kangaroos (Australia's national rugby teams as opposed to two of its more noted native animals!) Liverpool and the list probably goes on, with numerous other teams around Geelong, Australia and the world, as well as his own school teams.
Michael is the author of the acclaimed Legends and Anniversary Legends series with Black Dog Books. These series are a culmination of many years of dedicated sports mania combined with an enthusiastic exploration of what boys and girls really want to read. The blend of engaging narrative and informational text has captured the imagination of children all over Australia including reluctant readers. With over 100 000 copies sold, the entire first series is soon to be re-issued.
He is also the author of three series with HarperCollins. The Toby Jones series (four of five books have been published) is a mixture of fantasy and sports action as the hero Toby travels back through time, encountering a lot more than just old cricket matches. Brett Lee, Australia's premier fast bowler also contributes to the books with his wealth of cricket knowledge and experience.
---