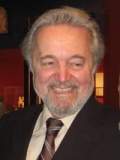 Nicholas Gage was an investigative reporter and foreign correspondent for the New York Times when he wrote Eleni, working as their bureau chief in Athens. It was published in 1983 and went on to win the Royal Society for Literature's Heinemann Award for the best book of the year in 1984.
Born Nicholas Gatzoyiannis in a remote Greek village in 1939, Gage fled to the United States ten years later with his sisters, after his mother was executed during the Greek civil war. In Eleni, Gage used his skills he learned as an investigative reporter for The New York Times to tell the story of how his mother arranged for her children to escape from their village, how she was tortured and executed in retribution by the guerrillas occupying it, and how he hunted down her killers thirty years later. The book won prizes around the world, was translated into 16 languages and was made into a motion picture.
Gage's subsequent book, A Place for Us, tells what happened to Nick and his sisters after they set sail for America to live with the father they had not seen in a decade. It is a definitive story of the modern immigrant experience, relating the triumphs, heartbreaks, and misadventures of the children as they try to assimilate to their new country and stern but well-meaning father.
---