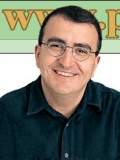 Paul Hanna is regarded as one of Australia's leading motivational speakers. He is living proof that if you set your goals and follow them with tenacity and perserverance, you can achieve big things. From humble beginnings he has risen rapidly, and is in constant demand as a consultant to blue-chip corporations like McDonald's, Qantas, BMW and Optus.
When he left school at the age of sixteen, Paul, like many young Australians, did not have a clear idea of what he wanted to do. However, on his first overseas trip he fell in love with travel. To maintain this passion he joined the travel industry and worked his way up to Product Manager at Qantas Airways, where he designed and developed holidays for Australians.
In 1988, after a successful career that included working with some of the heavyweights in the hospitality industry, Paul left Qantas to start a management consultancy. More than a decade on, his client list reads like a who's who of Australia's corporate elite.
---