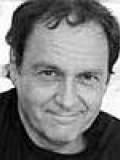 Phil Rickman is a British author best known for writing supernatural and mystery novels, often based on conflicting forces of paganism and other religions.
Rickman was born in Lancashire in northern England. He worked as a journalist for BBC World Service TV and BBC Radio 4. His first novel, Candlenight, won critical acclaim and gained Rickman the title of Britain's next great horror writer. He followed up with four more standalone novels, then began the Merrily Watkins series. The Merrily Watkins books, about a down-to-earth female priest of the Church of England employed as an exorcist, created a distinct new genre of crime thrillers with supernatural and spiritual causes. He occasionally writes under the pseudonym Will Kingdom. Rickman is married and lives on the Welsh borders, and currently has a radio show on BBC Radio Wales about books, Phil the Shelf.
Rickman's novels often involve Celtic mythology, native earthworks (especially stone circles), and oppositions of various spiritual forces. Characters often carry over from one novel to the next, usually as minor characters in one or more novels and major characters in another. Novels generally revolve around small towns and their spiritual legacies, often interwoven with current political issues. Most of his novels address the tensions between "locals," the longtime residents of rural areas, and "incomers" who have recently moved to the area; these conflicts have a socio-economic dimension reminiscent of gentrification, but in Rickman's hands they often assume a supernatural or spiritual aspect as well. Music is also an important theme in many of his books, from fictional bands to Nick Drake.
---