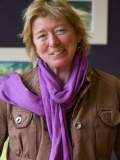 Born in Dublin in 1957, Siobhan McHugh graduated from University College Dublin with a B. Sc and worked as an editor, writer, and radio producer, before emigrating to Australia in 1985.
An award-winning writer and documentary-maker, Siobhan has broad experience of oral history as a practitioner, teacher and consultant. Her oral histories range across social, cultural, scientific, environmental, multicultural and political themes and have been made into books, films, TV and radio documentaries, CDs, a stage play, and featured on-line.
Siobhan has won the NSW Premier's literary award for non-fiction and been shortlisted twice for the NSW Premier's History awards. Her radio documentaries have been shortlisted for a Walkley, a Eureka science award and the United Nations Media Peace Prize.
---