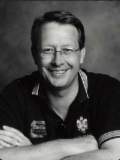 Tony Shillitoe started writing professionally in 1992 when Pan Macmillan published the novel Guardians, the first of the successful Andrakis fantasy series, recently republished by Altair Books Pty Ltd under new titles with some minor editorial alterations. Guardians was soon followed by Kingmaker and Dragonlords in 1993.
In 1995 Shillitoe published a children's fantasy, The Last Wizard, which was shortlisted in the inaugural Aurealis Awards for Best Fantasy Novel. Several short stories appeared in various anthologies between 1996-1998, and in 1999 he published his first young adult novel, Joy Ride with Wakefield Press.
Shillitoe returned to the fantasy genre in 2002 when HarperCollins released Blood, the first book in the Ashuak Chronicles, and Blood was also short-listed for Best Fantasy Novel in the Aurealis Awards. Passion and Freedom completed the trilogy in 2003.
---