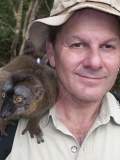 Alan Dean Foster was born in New York City in 1946, and was raised in Los Angeles. After receiving a Bachelor's Degree in Political Science and a Master of Fine Arts in Cinema from UCLA, he spent two years as a copywriter for a small Studio City. His first attempt at a novel, The Tar-Aiym Krang, was published by Ballantine Books in 1972.
Foster's work to date includes excursions into hard science-fiction, fantasy, horror, detective, western, historical, and contemporary fiction. He has also written numerous non-fiction articles on film, science, and scuba diving, as well as having produced the novel versions of many films, including such well-known productions as Star Wars, the first three Alien films, Alien Nation, The Chronicles of Riddick, Star Trek, Terminator:Salvation, and both Transformers films. Other works include scripts for talking records, radio, computer games, and the story for the first Star Trek movie. His novel Shadowkeep was the first ever book adaptation of an original computer game. In addition to publication in English his work has been translated into more than fifty languages and has won awards in Spain and Russia. His novel Cyber Way won the Southwest Book Award for Fiction in 1990, the first work of science-fiction ever to do so.
Foster loves to travel. He has camped out in the "Green Hell" region of the Southeastern Peruvian jungle, photographing army ants and pan-frying piranha; has ridden forty-foot whale sharks in the remote waters off Western Australia, and was one of three people on the first commercial air flight into Northern Australia's Bungle Bungle National Park. His filmed footage of Great White Sharks feeding off South Australia appeared on both American television and the BBC. Besides traveling he enjoys listening to both classical music and heavy metal. Other pastimes include basketball, hiking, body surfing, scuba diving, and power lifting, at which, since taking up the sport at 61, he has won a number of state and regional titles. He studied karate with Aaron and Chuck Norris. He has taught screenwriting, literature, and film history at UCLA and Los Angeles City College as well as having lectured at universities and conferences around the world. The Fosters reside in Prescott in a house built of brick salvaged from a turn-of-the-century Miner's brothel, along with assorted dogs, cats, fish, several hundred houseplants, visiting javelina, porcupines, eagles, red-tailed hawks, skunks, coyotes, bobcats. He is presently at work on several new novels and media projects.
---