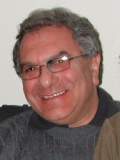 Born and educated in England, Alan Gold began his working life as a journalist contributing to newspapers in the Midlands of England. After three years, he graduated to writing freelance articles on society and politics for London newspapers and magazines, prior to becoming a freelance correspondent in Europe. Settling in Israel in the late 1960s, he worked for Reuters, while contributing articles on Middle Eastern politics to magazines and newspapers throughout the world. Alan met his wife, Eva, in Israel and returned to her home in Sydney in 1970, where they have lived ever since.
Alan left journalism in order to build a career in marketing and for many years has run his own successful marketing consultancy group. In 1978 he was persuaded by one of his major clients to run her franchise operation of knit fabric centres, and between them they built "Knitwit" into one of Australia's best known businesses. Starting with eleven shops, Alan assisted in building the chain into over 80 retail outlets in three years, spreading over three continents. Alan still lives in Sydney's Northern Suburbs, where he divides his time between writing his well-researched, action-packed thrillers and running his award-winning marketing consultancy.
The first three of Alan Gold's tales of evil, murder and retribution, 'The Jericho Files', 'The Lost Testament' and 'The Final Candidate', have all proved to be resounding successes, with 'The Jericho Files' and 'The Lost Testament' both published overseas. Alan is also the author of several non-fiction books including 'The Home Study Guide', 'How To Land The Job You Want' and 'How To Market A Small Business'. Alan is a member of the Australian Society of Authors, the National Book Council, the American Authors Guild, a Director of the Varuna Writers Centre, and a member of the Centre of Comparative Genocide Studies at Macquarie University. Of great importance to Alan is his latest venture, Writers Against Racism on the Net.
---