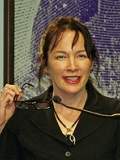 Alice Sebold was born in Antigo, Wisconsin. She grew up in the suburbs of Philadelphia and graduated from Great Valley High School in Malvern, Pennsylvania in 1980. She then enrolled in Syracuse University. On the last day of her freshman year, on her way back to her residence hall, Sebold was raped. After some months at home Sebold returned to Syracuse to finish her bachelor's degree and to study writing.
While at UCI, Sebold began writing Lucky, a memoir of her rape. The story began while writing a ten-page assignment, though Sebold eventually wrote 40 pages for her class. After Lucky, Sebold published the bestselling novel The Lovely Bones. While working on The Lovely Bones in 1995, Sebold met her husband Glen David Gold at UCI. He arrived late for one of his classes and couldn't take his hat off, and they began talking. They were married in November 2001.
In an interview conducted by Ann Darby of Publishers Weekly, Sebold said of The Lovely Bones: "I was motivated to write about violence because I believe it's not unusual. I see it as just a part of life, and I think we get in trouble when we separate people who've experienced it from those who haven't. Though it's a horrible experience, it's not as if violence hasn't affected many of us." The novel was adapted into a 2009 film of the same name by Peter Jackson. Sebold's second novel, The Almost Moon, continued what The New Yorker called "Sebold's fixation on terror".
---