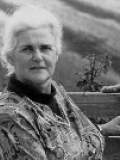 Anne Inez McCaffrey was born April 1, 1926 and is an American science fiction author best known for her Dragonriders of Pern series.
Anne McCaffrey was born in Cambridge, Massachusetts. Anne was educated at Stuart Hall, an all-girl boarding school in Staunton, Virginia. She then went to Montclair High School, Montclair, New Jersey, and graduated from Radcliffe College majoring in Slavonic Languages and Literature in 1947. She married H. Wright Johnson in 1950 and has three children. She was divorced in 1970, after which she emigrated to Ireland with her two younger children. McCaffrey lives in a house of her own design in County Wicklow, Ireland, and calls her home Dragonhold-Underhill.
McCaffrey's most famous works are the Dragonriders of Pern series. These are set on an Earth colony which has reverted to medieval times but also produced dragons. These dragons are flown by elite "dragonriders" who communicate telepathically with their dragons, and defend Pern against pernicious "threads" which cross space periodically from a nearby planetoid and threaten to destroy all vegetation on Pern. The short story "Weyr Search", the initial story in the Dragonriders of Pern series, won a Hugo Award for Best Novella. McCaffrey thus became the first woman to win a Hugo for fiction.
---