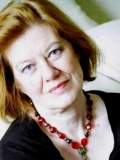 Anne's publishing career began with The Cater Street Hangman. Published in 1979, this was the first book in the series to feature the Victorian policeman Thomas Pitt and his well-born wife Charlotte. This is arguably the longest sustained crime series by a living writer. Buckingham Palace Gardens, the latest in the series, appeared in the New York Times Bestsellers List in April 2008.
In 1990, Anne started a second series of detective novels with The Face of a Stranger. These are set about 35 years before and features the private detective William Monk and volatile nurse Hester Latterly. The most recent of these (15th in the series) is The Dark Assassin which appeared in the New York Times Bestsellers List.
Anne won an Edgar award in 2000 with her short story "Heroes". The main character in the story features in an ambitious five-book series set during the First World War. The last of these was recently published, in Autumn 2007. None of her books has ever been out of print, and they have received critical acclaim and huge popular success: over 20 million books are in print world-wide. Her books have appeared on bestseller lists in a number of foreign countries, where she has also had excellent reviews. The Times selected her as one of the "100 Masters of Crime".
---