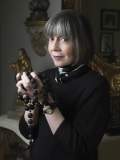 Anne Rice (born Howard Allen O'Brien on October 4, 1941) is a best-selling American author of gothic and religious-themed books. Her books have sold nearly 100 million copies, making her one of the most widely read authors in modern history.
One of America's most read and celebrated authors, Anne Rice is known for weaving the visible and supernatural worlds together in epic stories that both entertain and challenge readers. Her books are rich tapestries of history, belief, philosophy, religion, and compelling characters that examine and extend our physical world beyond the limits we perceive.
In 2005, after completing Christ the Lord, Out of Egypt, Anne left Louisiana and her beloved city of New Orleans to live in California. Within months of her departure, Hurricane Katrina devastated the area. Christ the Lord, the Road to Cana, was published in 2008. A spiritual memoir by Anne entitled Called Out of Darkness will be published in the fall of 2008 as well.
---