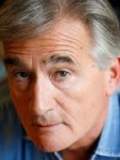 Antony Beevor is a former British soldier, historian and author. He writes both fiction and non-fiction, all about various aspects of war, and mostly about World War Two.
He is perhaps best known for his book, Berlin: The Downfall 1945. A vivid account of the end of the Nazi regime, it drew stinging criticism from Russian academics, keen to hold on to the ideal of the heroic, liberating Red Army. Beevor researched several documents and first hand accounts from archives released by the Russians themselves, so it would be fair to say that some historians need to take a more objective view of history, just as Antony has done with his books.
Antony is also a visiting professor and the University Of London (History, Archaeology and Classics). He trained as the famed Sandhurst academy, and was an officer in the 11th Hussars before leaving the military. He comes from a long line of (female) authors, including grandmother Lina Waterfield, herself a descendant of Lucie Duff-Gordon. His mother Carinthia Jane Waterfield wrote A Tuscan Childhood under the name 'Kinta' Beevor.
---