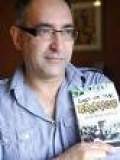 Archimede Fusillo was born in Melbourne in 1962 to Italian immigrants. He taught English at secondary school level for many years and has an extensive background in writing. Fusillo has had numerous works published, including two children's books, 'Talking To The Moon' and 'Memories Of Sunday Cricket In The Street', and a short biography entitled 'Damien Parer - Putting War On Film'. He has also written three text books for secondary school students, 'Short Stories - Reading To Write', 'Network Media' and 'Imaginative Writer'.
He has had over 40 short stories published in various literary magazines, journals and anthologies, winning 15 awards or shortlistings since 1984. A full time writer, Fusillo also conducts writing workshops throughout Victoria for both students and adults.
In 1996, he was nominated in the Victorian Teacher Excellence Awards by his students for his achievements in the classroom. His first novel 'Sparring With Shadows' was published by Penguin in 1997 and has recently been shortlisted for the Italy in the World Award in New York.
---