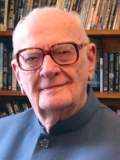 Arthur C Clarke was born in the seaside town of Minehead, Somerset, England on December 16, 1917. He is without question the world's best-known science fiction writer. He has written more than 70 books and his best selling titles include '2001: A Space Odyssey', 'Childhood's End', 'The Ghost From The Grand Banks', 'The Garden Of Rama And Rama II'.
Over the years Clarke has won innumerable international awards for his fiction, scientific writing, and for his inspirational role as one of the chief prophets of the space age. In scientific circles he is famous for his 1945 sketching of orbital communication satellites.
However, it was his collaboration with Stanley Kubrick on the film '2001: A Space Odyssey' where he received the most widespread acclaim. The movie set new standards for science fiction films and the two shared an Academy Award nomination in 1968. More recently Clarke has touched the whole new generation through his television series 'Arthur C Clarke's Mysterious World'. To celebrate his 75th birthday, Somerset hosted a Festival of Space in his honour. He passed away in Sri Lanka on March 19, 2008.
---