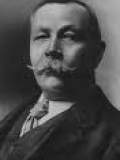 Arthur Ignatius Conan Doyle was born on May 22, 1859, in Edinburgh, Scotland. His mother, Mary, was passionate about books, and loved storytelling. Arthur is on record as saying that his most powerful memories as a child were of his mother's powerful and emotive storytelling. After being sent to boarding school in England at the age of nine, he wrote frequently to his mother (one of his few joys at the time). It was a difficult time for him, but he realised he too had a gift for telling stories, and could often be found with enraptured younger students, listening to stories he would make up to amuse them.
After school Arthur studied medicine and met other future authors, fellow students such as James Barrie and Robert Louis Stevenson. But the man who most impressed and influenced him, was without a doubt, one of his teachers, Dr. Joseph Bell. The good doctor was a master at observation, logic, deduction, and diagnosis. All these qualities were later to be found in the persona of the celebrated detective Sherlock Holmes. He graduated and eventually set himself up in Portmouth as a practicing GP. He married and after a slow start earned a comfortable living, and dabbled in writing.
In March 1886, Conan Doyle started writing the novel which catapulted him to fame. At first it was named A Tangled Skein and the two main characters were called Sheridan Hope and Ormond Sacker. Two years later this novel was published in Beeton's Christmas Annual, under the title A Study in Scarlet which introduced us to the immortal Sherlock Holmes and Dr. Watson.
---