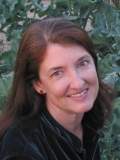 Barbara Kingsolver was born April 8, 1955. She is an American writer. She has written, or collaborated on, 13 books, most of which are novels, but including some poems, short stories and essays. Kingsolver established the Bellwether Prize for "literature of social change," named after the bellwether. Kingsolver's books have been widely praised both for their passionate moral commitment and for their ethereal writing style. Every one of her books since Pigs in Heaven has been on The New York Times Best Seller list. Community, economic injustice and cultural difference inform the themes of Kingsolver's work.
In The Bean Trees, the main character acquires a child named Turtle and meets a family of Guatemalan immigrants whose daughter was taken by the government in an effort to force them to speak out about their underground teaching circle. They were forced to escape torture and death in their home country, but are also forced to evade the authorities in the United States. The sequel to The Bean Trees, her 1993 novel Pigs in Heaven, examines the conflicts between individual and community rights, through a story about a Cherokee child adopted out of her tribe. In Animal Dreams, the American sister of the main protagonist is kidnapped by US-backed Contras while working to promote sustainable farming in Nicaragua. In The Poisonwood Bible, Kingsolver examined the role of the United States and other political powers in colonial and post-colonial Africa.
Kingsolver has said, "If we can't, as artists, improve on real life, we should put down our pencils and go bake bread."
---