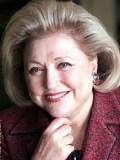 Barbara Taylor Bradford was born in Leeds, Yorkshire, and was a reporter for the Yorkshire Evening Post at 16. By the age of 20 she had graduated to London's Fleet Street as both an editor and columnist.
In 1979, she wrote her first novel, A Woman of Substance, and her subsequent bestsellers include Voice of the Heart, Hold the Dream, Act of Will, To Be the Best, The Women in His Life and her latest triumph Where You Belong.
Of these titles, 10 have been made into television miniseries or are currently in production. Her novels have sold more than 56 million copies worldwide in more than 88 countries and 38 languages. Barbara Taylor Bradford lives in New York City and Connecticut with her husband, film producer Robert Bradford.
---