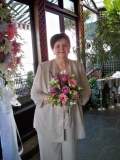 Bertrice Small has lived in eastern Long Island for 34 years. Her passions are her family, the family cats and cockatiel, her garden and her work.
She is a well known author of many years for her historical and fantasy Romance novels. Bertrice has written many series including The Border Chronicles and The Pleasures.
She is the recipient of numerous awards including Career Achievement for Historical Romance; Best Historical Romance; Outstanding Historical Romance Series; Career Achievement for Historical Fantasy; a Golden Leaf from the New Jersey Romance Writers chapter of Romance Writers of America; an Author of the Year (2006) and Big Apple Award from the New York City Romance Writers chapter of RWA.
---