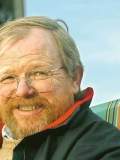 Bill Bryson was born in Des Moines, Iowa, in 1951. A backpacking expedition in 1973 brought him to England where he met his wife and decided to settle. He wrote for the English newspapers The Times and The Independent for many years, writing travel articles to supplement his income. He lived with his family in North Yorkshire before moving back to the States in 1995, to Hanover, New Hampshire, with his wife and four children. In 2003 he and his family moved back to England, where they currently reside.
The Lost Continent, Bill Bryson's hilarious first travel book, chronicles a trip in his mother's Chevy around small town America. Since then, he has written several more, including notable bestsellers, A Walk in the Woods, I'm A Stranger Here Myself, and In a Sunburned Country.
His other books include Bill Bryson's Dictionary of Troublesome Words, Neither Here nor There: Travels in Europe, Made in America, The Mother Tongue and Bill Bryson's African Diary and A Short History of Nearly Everything.
---