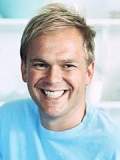 Bill Granger is a self-taught Cook, restaurateur and compulsive cookbook writer. Relocating from Melbourne to Sydney in the late 1980s to study art, Bill found inspiration in the city's lifestyle, light and its incredible harbour aspect. Whilst supplementing his studies by working part time as a waiter, his creative direction slowly changed from an art student with a passion for food to a chef.
Breakfast, and more specifically scrambled eggs, first made Bill famous when, in 1993 five years after arriving in Sydney and still only 22, he opened a restaurant called "bills" in the Sydney suburb of Darlinghurst. A second restaurant, bills Surry Hills, opened in 1996 serving breakfast through to dinner. Both are beloved by locals and tourist alike. In 2005, Bill opened a third Sydney restaurant, bills Woollahra. In 2004 the six part series, bills food, followed Bill cooking his way through a busy working week and a casual weekend with family and friends.
Bill lives with his wife Natalie Elliott and their three daughters Edie, Ines & Bunny.
---