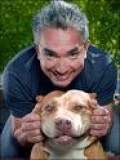 Cesar Millan (born August 27, 1969) is a professional dog trainer/dog psychologist. In his words, he "rehabilitates dogs, trains people". He is best known for his television series, Dog Whisperer, which is currently in its fourth season and airs on Foxtel's Bio channel 115 in Australia. He is also the co-author of the best selling books, Cesar's Way, and Be the Pack Leader. The International Association of Canine Professionals awarded Cesar and his wife Ilusion with honorary membership in March 2006.
"Dog rehabilitation" is Millan's primary profession, which is portrayed on the program through real-life cases with owners and their dogs. Millan opened the Dog Psychology Center in the mid-1990s, prior to his success with television. Cesar's strongest interest is in rehabilitating aggressive dogs, and he holds a special fondness for what he refers to as the "power breeds," such as pit bulls and rottweilers.
Via word of mouth, in 1994 he came to the attention of celebrities Will Smith and his wife Jada Pinkett Smith (whom Millan cited as being responsible dog owners), who began recommending Millan to many other celebrities and also mentored him in other ways, helping to improve his English as well as becoming good friends.
---