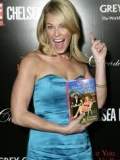 Chelsea Joy Handler (born February 25, 1975) is an American stand-up comedian, humorist, television host, actress, and best-selling author. She has her own late night talk show Chelsea Lately on the E! Cable Television Network. In 2009 she won a Bravo A-List Award. She also has her own column in Cosmopolitan and the UK celebrity magazine NOW.
In March 2009, Chelsea was honoured with the prestigious Ally for Equality Award by the Human Rights Campaign, recognizing the outstanding efforts of those who dedicate time, energy, spirit and whole-hearted commitment to better the lives of LGBT people. She continues to be an influential and dedicated advocate for the LGBT community.
Chelsea, who grew up in New Jersey, currently resides in Los Angeles.
---