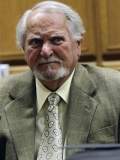 Clive Eric Cussler (born July 15, 1931 in Aurora, Illinois) is an American adventure novelist and marine archaeologist. He grew up in Alhambra, California. He was awarded the rank of Eagle Scout when he was 14. He attended Pasadena City College for two years and then enlisted in the United States Air Force during the Korean War. During his service in the Air Force he was promoted to Sergeant and worked as an aircraft mechanic and flight engineer for the Military Air Transport Service (MATS).
Clive Cussler married Barbara Knight in 1955 and they remained married for nearly 50 years until her death in 2003. Together they had three children, Teri, Dirk and Dana who have given him four grandchildren.
After his discharge from the military Cussler went to work in the advertising industry, first as a copywriter and later as a creative director for two of the nation's most successful advertising agencies. As part of his duties Cussler produced radio and television commercials, many of which won international awards including an award at the Cannes Lions International Advertising Festival.
---