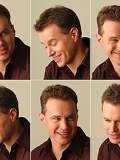 As a six year old, Colin moved with his family to Melbourne, Australia and then Peakhurst,Sydney, before moving to the outback as a young man for a couple of years. He then moved to Bourke, in the corner country of New South Wales, and Grenfell, NSW.
Colin has won seven Golden Guitar awards and has written songs with Lee Kernaghan, Adam Brand and Troy Cassar-Daley. His song "Hat Town", written with Lee Kernaghan, won an APRA Award, while his Christmas album, recorded with Greg Champion, has become an Australian classic, in particular his "Aussie Jingle Bells", now a staple at school end-of-year concerts.
Colin appears as a regular presenter on repeats of ABC TV's Play School. More recently he can be seen on Playhouse Disney, a co-production between Australia's Seven Network and Disney Channel. He appears with Monica Trapaga each year representing Seven and Disney on Carols in the Domain. He also regularly hosts on radio Qantas' in-flight country music channel.
---