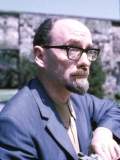 Desmond Bagley was born in England on the 29th October 1923 at Kendal in Cumbria. He spent his early years in the town, educated in strict schools. At about the age of eleven the author's father was retired prematurely from the mines due to ill-health, and the family moved to Blackpool to run a theatrical boarding house.
Leaving school with no formal qualifications the author started work as a Printer's Devil (an apprentice or errand boy) at the age of 14. Just before World War II he was working servicing the vending-machines and one-arm bandits along Blackpool's 'Golden Mile' and 'Pleasure Beach'. Throughout the journey he worked his passage but never settled in one job for long, and often felt his speech impediment lost him opportunities along the way, preventing him from being directly employed by any one company
It was in 1957 that he wrote his first short story to be published in the UK. Called "My Old Man's Trumpet"
---