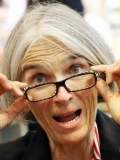 Donna Leon (born September 29, 1942) is an American author of a series of crime novels set in Venice and featuring the fictional hero Commissario Guido Brunetti.
Donna Leon has lived in Venice for twenty years. She has worked as a lecturer in English Literature for the University of Maryland University College - Europe (UMUC-Europe) in Italy and then as a Professor and a writer. Some years ago, Donna Leon stopped teaching and has concentrated on writing and other cultural activities in the field of music (especially Baroque music).
Her crime novels are all situated in or near Venice. They are written in English and translated into many foreign languages, although not (by her request) Italian. Friends in High Places won the Crime Writers' Association Silver Dagger in 2000.
---