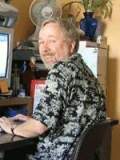 Duncan Ball is an American-born Australian author who has written the children's series Selby (about a talking dog named Selby who tries to keep his secret away from his owners) and Emily Eyefinger (about a girl who has an eye on her finger). He also writes under the name of John St Claire. St can mean either Saint or Street and Duncan happens to live on the corner of John and Claire Streets in Sydney.
Duncan was born in 1941 in Boston, Massachusetts, U.S., and was one of three children. When he was 4, his family moved to Alaska, where he went to primary school. In his teens, Duncan moved to Madrid, Spain where he learned to speak Spanish. He finished high school back in the US, and eventually moved to Sydney, New South Wales, Australia and worked as an industrial chemist. He wrote a novel for adults and later changed jobs to editor of the School Magazine at the Department of Education of New South Wales.
He continued to work there for a few years, then resigned to become a full-time author, a profession which he continues today.
---