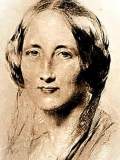 Elizabeth Gaskell was born Elizabeth Stevenson on 29 September 1810. Gaskell was the eighth and last of her parents' children, however only she and her brother John survived infancy. After her mother died in childbirth her Unitarian minister father sent her to live with her Aunt in Cheshire.
Much of Elizabeth's childhood was spent in Cheshire, where she lived with her Aunt in Knutsford, a town she would later immortalise as 'Cranford'. They lived in a large red brick house, Heathwaite, on Heathside (now Gaskell Avenue), which faces the large open area of Knutsford Heath.
She also spent some time in Newcastle upon Tyne and in Edinburgh. It was during this period, Gaskell met and married William Gaskell, the minister at Cross Street Unitarian Chapel, who had a literary career of his own.
---