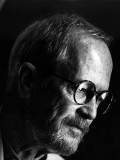 Elmore John Leonard, Jr., born in 1925, is an American novelist and screenwriter. His earliest published novels in the 1950s were westerns, and Leonard went on to specialize in crime fiction and suspense thrillers, several of which have been adapted into successful motion pictures or TV movies.
He has been commended by critics for his gritty realism and strong dialogue. His writing style sometimes takes liberties with grammar in the interest of speeding along the story. In his essay, "Elmore Leonard's Ten Rules of Writing," he writes, "My most important rule is one that sums up the 10: If it sounds like writing, I rewrite it." His advice to writers also includes the hint, "Try to leave out the part that readers tend to skip."
Leonard has been called "the Dickens of Detroit" because of his intimate portraits of people from that city. Leonard's ear for dialogue and ability to render same on the printed page are uncanny and have been praised by writers such as Saul Bellow, Martin Amis, and Stephen King. "Your prose makes Raymond Chandler look clumsy," Amis told Leonard at a Writers Guild event in Beverly Hills in 1998.
---