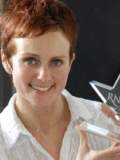 Freya North (born November 21, 1967) is a British author.
Her novels centre around strong female characters and their raunchy exploits. One of the precursors of Chick lit, her books have been critical and financial successes.
In 1991, she gave up writing her PhD in Art History in order to start writing her first novel Sally, about a woman embarking on a no-strings erotic affair. Top agent Jonathan Lloyd at Curtis Brown Ltd put the novel into a 5 publisher bidding war which resulted in a three book deal for a six-figure sum. "Sally" was published in 1996. Chloe followed soon after, and tells of a woman travelling around the four countries of the UK during the four seasons of the year and her various sensual exploits en route. Polly about a teacher exchange trip between America and England was published in 1998 and Cat about a sports journalist covering the Tour de France in 2000. Further titles were Fen (2001) set in the art world and Pip, about a female clown (2004). Her seventh novel Love Rules (2005) about whether one listens to one's head or follows one's heart, was published in 2005. Home Truths, which reunites the McCabe characters from earlier novels Cat, Fen and Pip, was published in 2006.
---