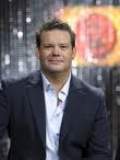 Born in the UK, Gary has lived and worked in Melbourne since 1988. He is best known as a co-host of television show MasterChef with George Calombaris and Matt Preston. (Gary helped to train George, and along with Raymond Capaldi, the trio opened the restaurant Fenix in 2000).
As well as a stellar career as a restaurateur, he has appeared on numerous televisions shows including MasterChef, Ready Steady Cook, Good Chef Bad Chef, and Boy's Weekend.
In April he released his first cook book in Australia, Gary Mehigan's Comfort Food.
---