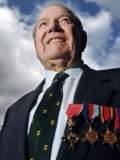 George MacDonald Fraser, OBE (2 April 1925 2 January 2008) was a British author of both historical novels and non-fiction books, as well as several screenplays.
After his discharge, Fraser returned to the United Kingdom. He worked on the Carlisle Journal and married another journalist, Kathleen Hetherington. They travelled to Canada, working on newspapers there, before returning again to Scotland. Starting in 1953, he worked for many years as a journalist at the Glasgow Herald newspaper where he was deputy editor from 1964 until 1969. He briefly held the title of acting editor. Fraser resigned and gained fame as a novelist and a screen writer. He is best known for his Flashman series of historical novels, purportedly written by Harry Flashman, a fictional coward and bully originally created by Thomas Hughes in Tom Brown's School Days. The novels are presented as "packets" of memoirs written by the nonagenarian Flashman, who looks back on his days as a hero of the British Army during the 19th century. The series begins with Flashman, and is notable for the accuracy of the historical settings and praise from critics. P.G. Wodehouse said of Flashman, If ever there was a time when I felt that watcher-of-the-skies-when-a-new-planet' stuff, it was when I read the first Flashman.
George MacDonald Fraser was made an Officer of the Order of the British Empire (OBE) in 1999.
---