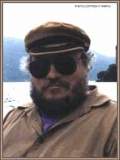 George Raymond Richard Martin (born September 20, 1948), sometimes referred to as GRRM, is an American author and screenwriter of fantasy, horror, and science fiction. He is best known for his ongoing A Song of Ice and Fire series of novels.
Critics have described Martin's work as dark and cynical. His first novel, Dying of the Light, set the tone for most of his future work; it is set on a mostly abandoned planet that is slowly becoming uninhabitable as it moves away from its sun. This story, and many of Martin's others, have a strong sense of melancholy. His characters are often unhappy, or at least unsatisfied - trying to stay idealistic in a ruthless world. Many have elements of tragic heroes in them. Reviewer T. M. Wagner writes, "Let it never be said Martin doesn't share Shakespeare's fondness for the senselessly tragic." This gloominess can be an obstacle for some readers. The Inchoatus Group writes, "If this absence of joy is going to trouble you, or you're looking for something more affirming, then you should probably seek elsewhere."
His characters are often considered multi-faceted, each with surprisingly intricate pasts, inspirations, and ambitions. Publisher's Weekly writes of his on-going epic fantasy A Song of Ice and Fire "The complexity of characters such as Daenarys , Arya and the Kingslayer will keep readers turning even the vast number of pages contained in this volume, for the author, like Tolkien or Jordan, makes us care about their fates." No one is given an unrealistic string of luck, however, so misfortune, injury, and death (and even false death) can befall any character, major or minor, no matter how attached the reader has become. Martin has described his penchant for killing off important characters as being necessary for the story's depth: "...when my characters are in danger, I want you to be afraid to turn the page, (so) you need to show right from the beginning that you're playing for keeps."
---