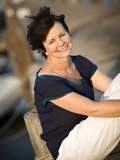 Geraldine Brooks (born 14 September 1955) is an Australian journalist and author whose 2005 novel, March, won the Pulitzer Prize for Fiction. While still retaining her Australian passport, she became an American citizen in 2002.
Brooks' first book, Nine Parts of Desire (1994), based on her experiences among Muslim women in the Middle East, was an international bestseller, translated into 17 languages. Foreign Correspondence (1997), which won the Nita Kibble Literary Award for women's writing, was a memoir and travel adventure about a childhood enriched by penpals from around the world, and her adult quest to find them.
Her first novel, Year of Wonders, published in 2001, became an international bestseller. Set in 1666, the story depicts a young woman's battle to save fellow villagers as well as her own soul when the bubonic plague suddenly strikes her small Derbyshire village of Eyam.
---