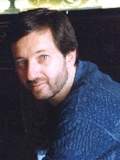 Kay was born in Weyburn, Saskatchewan, and raised in Winnipeg, Manitoba, both in Canada. His background is Jewish.
Guy Gavriel Kay (born November 7, 1954) is a multiple award-winning Canadian author of fantasy fiction. Many of his novels are set in fictional realms that resemble real places during real historical periods.
Guy Gavriel Kay began his writing career working with J R R Tolkien's youngest son and literary executor, Christopher Tolkien, on the editing of JRR Tolkien's great central work of mythology, The Silmarillion, first published in 1978. Born and raised in Canada, Kay is still based in Toronto, although he now does most of his writing in Europe.
---