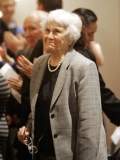 Nelle Harper Lee (born April 28, 1926) is an American author known for her 1960 novel To Kill a Mockingbird. She was awarded the Presidential Medal of Freedom of the United States for her contribution to literature in 2007.
Harper Lee was born in the Alabama town of Monroeville on April 28, 1926, the youngest of four children of Amasa Coleman Lee and Frances Cunningham Finch Lee. Her father, a former newspaper editor and proprietor, was a lawyer who served in the Alabama state legislature from 1926 to 1938. As a child, Lee was a tomboy and a precocious reader, and enjoyed the friendship of her schoolmate and neighbour, the young Truman Capote.
After graduating from high school in Monroeville, Lee enrolled at the all-female Huntingdon College in Montgomery (1944 45), and then pursued a law degree at the University of Alabama (1945 50), pledging the Chi Omega sorority. While there, she wrote for several student publications and spent a year as editor of the campus humour magazine, the Rammer Jammer.Though she did not complete the law degree, she studied for a summer in Oxford, England, before moving to New York in 1950, where she worked as a reservation clerk with Eastern Air Lines and BOAC.
---