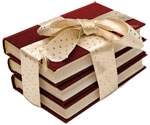 The Wishlist provides our members the ability to save desired products for purchasing at a more convenient time, or to allow friends and family the ability to gift a product from the list.
In order to create a Wishlist you need to be a member of the site. Wishlists are not available for those customers wishing to check out using a Guest Account. If you are not already a member, you can join
here
.
Once you have logged in to the website, you can add a product to your Wishlist by clicking on the heart icon next to the book cover on the product page.
If you would like to share your wishlist with friends and family, simply go to the Wishlist page and share the unique URL provided.
If you are looking for a specific Wishlist, please ask the friend or family member to send you their unique wishlist link.
---
If you require further assistance, please feel free to contact us via the following methods: