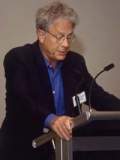 Born in Hobart, Tasmania in 1938, Henry Reynolds taught in secondary schools in Australian and England after receiving a Master of Arts from the University of Tasmania. On his appointment as lecturer at the Townsville University College, he was responsible for setting up the programme in Australian History. He is currently Research Professor at the University of Tasmania and is the recipient of an Australian Research Council Senior Research Fellowship.
The winner of the 1999 Australian Human Rights Award for the Arts, Henry is the author of ten books including The Whispering of Our Hearts, The Law of the Land, The Other Side of the Frontier and Aborigines and Settlers. His most recent book, Why Weren't We Told? is a frank account of his personal journey towards the realisation that he, like generations of Australians, grew up in a distorted and idealised version of the past.
Black Pioneers, is Henry's 1990 publication of With the White People, which will be released in October with a new introduction by the author.
---