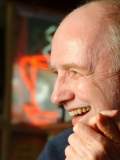 Hugh Duncan Lunn is an Australian journalist and author, born in Brisbane, Queensland in 1941. Lunn served his journalism cadetship with The Courier-Mail. Upon completing his cadetship, he worked overseas for seven years. During 1967 and 1968 he covered the Vietnam War for Reuters, and exposed the so-called "Act of Free Choice" in West Papua in 1969 while the Reuter Correpsondent in Indonesia, before returning to Australia to become Queensland editor of The Australian. Over the course of the next two decades Lunn was in turn sacked and re-employed by Rupert Murdoch's newspaper a number of times. Finding himself without employment at the age of 47, he began to pen a memoir about his childhood.
Lunn is now famous in Queensland for a number of autobiographical books: in June 2009 he was voted as a Queensland Icon as one of 15 "influential artists" in the state's history in a list of 15 which included the Bee Gees, Jeffrey Rush, Powderfinger and David Malouf. The best known of his memoirs is Over The Top With Jim. Published in 1989, Over The Top... became the biggest-selling non-fiction book in Australia for the calendar year 1991. It tells the story of his Brisbane childhood and his friendship with Jim Egoroff and Ken Fletcher. After reading the book Egoroff is said to have visited Lunn and threatened to "punish you for your sins".
Lunn is also famous for coining the phrase "there is no such thing as an ex-Queenslander", which he first used when in November 1979 he convinced rugby league Senator Ron McAuliffe, President of the QRL, on a 90-minute plane trip from Brisbane to Canberra, of the viability of a Rugby League State of Origin series.
---